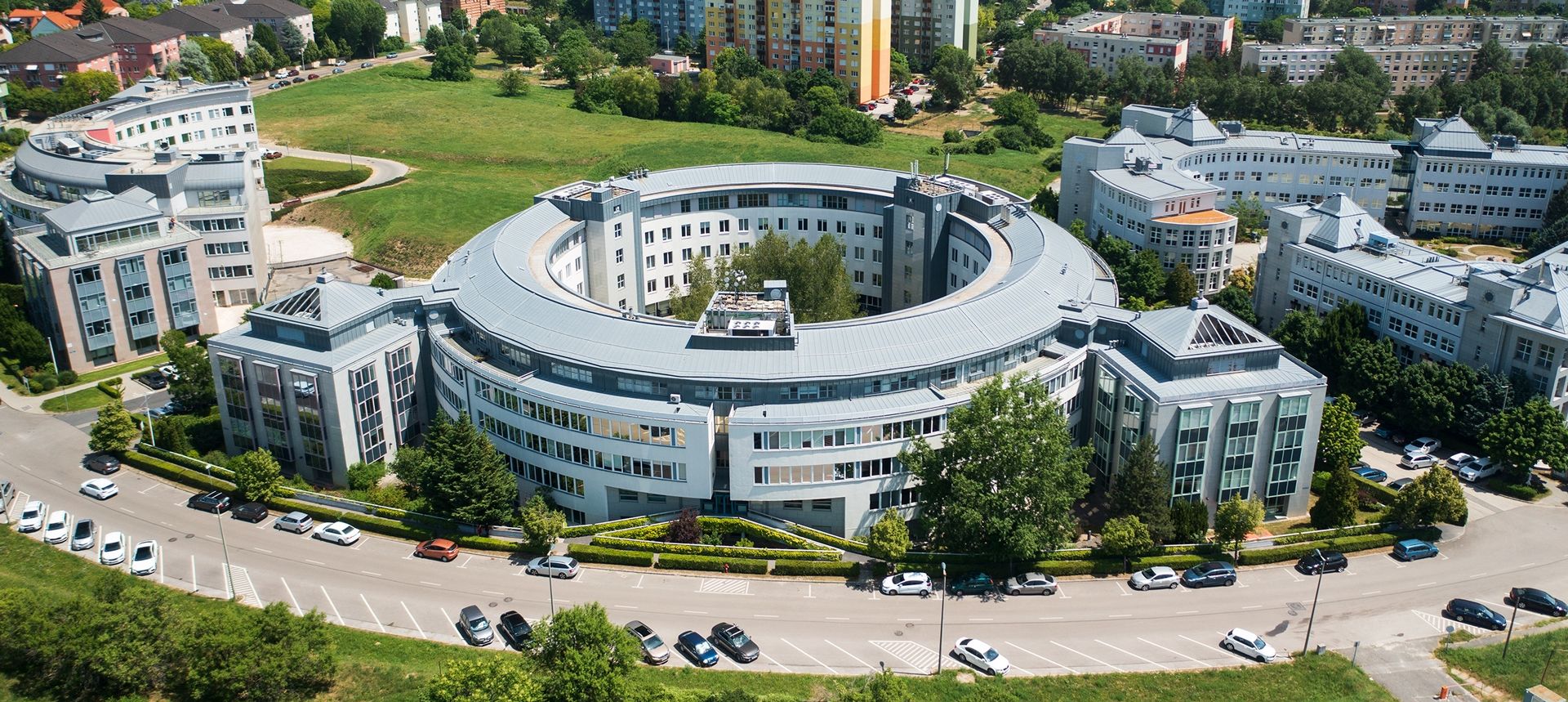 Terra Park NEXT A and B offices are located in the western gateway of Budapest, in the town of Budaörs within the Terra Park office complex. Terra Park complex currently has multiple owners and provides all together ca. 65,000 sq m existing commercial space for lease. The buildings of Terra Park NEXT A and B were constructed by Strabag and developed by Terrafinanz – Terra-Dom in Hungary – an entity owned by the Blum family from Munich. Even Dezső Ekler participated In the design of building B, who is an apprentice of Imre Makovecz. Building A and B were completed in 2001 and 2002 respectively. Building A consists of 1 underground floor, a ground floor and 3 stories, while building B has 2 underground floors, a ground floor and upper levels between 1 – 4.
The buildings are fitted out with restaurant, cafe and fitness centre.
The property has 360 underground and further 50 surface parking lots.
Location and accessibility
Terra Park NEXT A and B are located in the neighbourhood of the Auchan, IKEA, Decathlon commercial centre, within the area of Terra Park office complex. Both building sits in the busy centre and visible part of the office complex. The offices have excellent accessibility both by public transport (bus nr. 40) and by car (M1-M7 highways). Parking is conveniently available either in the underground garage and surface parking or on the free parking zone municipality street.
Interior design plans
Large floors available on one level (up to 2,500 sq m)
Terraces with view
Self-contained office areas
Openable windows
4 pipe fan-coil air conditioning system
Suspended ceiling and raised floor
Internet and phone service providers are available
Entry card access system to the lobbies
Tea kitchenette
Modern, comfortable elevators
Full scale property and facility management
reception, 24 h security guards, CCTV surveillance system
restaurant, cafe with terrace
fitness centre and tennis courts
internal garden and green environment
conference room
car wash
ATM bankomat, post office and further restaurants nearbyn
Auchan, IKEA, Decathlon, Mömax
Terra Park NEXT A and B are high standard, unique built office buildings in the western gateway of Budapest, in the town of Budaörs. All services are available in the offices and the surrounding area one can expect in a modern office building.
The buildings with their more than 28,000 sq m gross lettable area and 4 level high floors of 'A' category office space provide ideal leasing opportunity for occupiers, who value the traffic jam free transportation, the quick access to Western Europe, the convenient green environment every day, the proximity of Lake Balaton besides the competitive pricing and accessibility of Budapest.